Our 2019 Fall Harvest Fundraiser was a big success. We hope to make it an annual event.
read more
Monday, November 4th & Every Monday Evening Following
6:00 pm
Faithful Fools (234 Hyde Street)
Meditation Group is a pilot community program of SF Night Ministry. It is a weekly Buddhist-inspired gathering offering heavily-guided, trauma-sensitive meditation. Consider supporting this new endeavor!
read more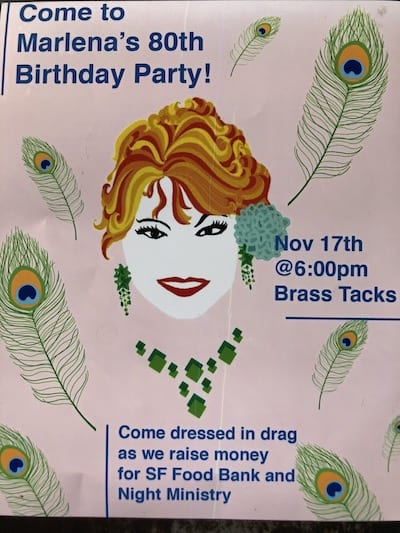 Sunday, November 17th
6:00 pm
Brass Tacks (488 A Hayes Street)
Iconic San Franciscan, Empress 25 Marlena, will celebrate her 80th year with a birthday party benefiting the SF Food Bank and San Francisco Night Ministry. You are invited! Even if you cannot attend, consider making a donation to SF Night Ministry in Marlena's name.
read more
Thursday, December 19th
Procession: 4:00 pm & Vigil: 6:00 pm
Procession: 220 Golden Gate at Leavenworth & Vigil: Civic Center, UN Plaza
A processional to City Hall and an Interfaith vigil to remember our neighbors who have died on San Francisco's streets in 2019.
read more
Join our email list to receive periodic updates about news, events, and happenings in the San Francisco Night Ministry community.
We are good stewards of your email address and privacy.