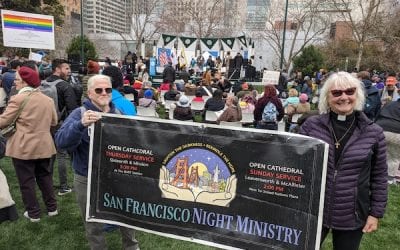 John Cumming and Rev. Nancy Pennekamp engaged in a "ministry of awareness" when carrying a SFNM banner at the 2020 Faith March for MLK Day. John is president of SFNM's Governing Board, and Nancy is a volunteer deacon for Open Cathedral.
read more
The San Francisco Ducal Council's "Jail 4 Bail" fundraiser is in full swing.
Olivia Hart charges Night Minister Valerie McEntee, Night Minister Emeritus Lyle Beckman, and Grand Duchess Katherine Rose (our office administrator) with higher-consciousness crimes and upstanding demeanors.
read more
Mondays
6:00 pm
Faithful Fools (234 Hyde Street)
Meditation Group is a pilot community program of SF Night Ministry. It is a weekly Buddhist-inspired gathering offering heavily-guided, trauma-sensitive meditation. Consider supporting this new endeavor!
read more
Join our email list to receive periodic updates about news, events, and happenings in the San Francisco Night Ministry community.
We are good stewards of your email address and privacy.