NIGHT WALKS
Community Chaplaincy On the Streets
NIGHTLY SERVICES
Night Ministers walk the streets while Care Line counselors operate the telephones.
The heart of our work occurs at night. We offer spiritual and emotional care and referral services on the streets, in the middle of the night, every night of the year.
We provide companionship to those who are lonely and isolated. We attend to mental and physical needs. We provide harm reduction for those at risk to themselves and others. We encounter many of the most vulnerable, who fall between the cracks of the city's social services.
New Program: We are launching our Night Ministry Ambassadors volunteer opportunity. Ambassadors will train in a cohort and then complete 100 hours of service over 5 months, concluding with a certificate of completion. Ambassadors will work individually and as a group in self-directed ministry projects aligned with Night Ministry's vision and mission. The program is open for everyone who is interested. Ambassadors is ideal for CPE graduates and chaplaincy interns from other programs looking to accrue spiritual care clinical hours. Click below to learn more and apply!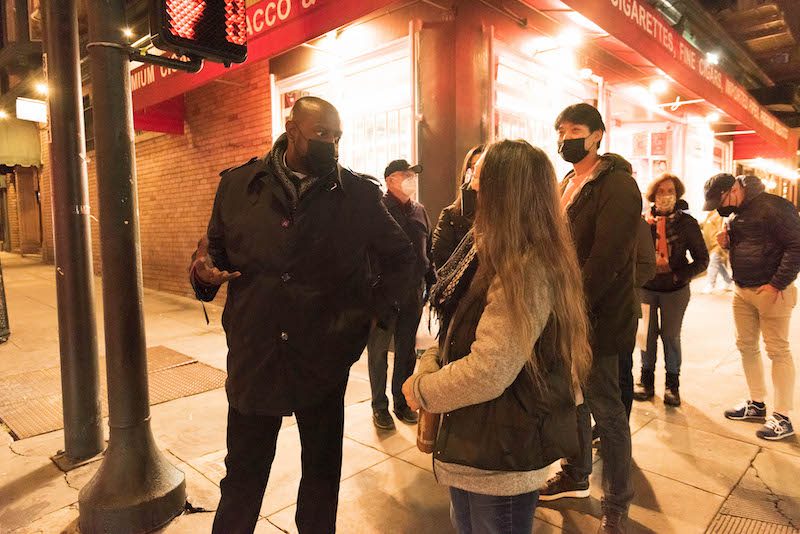 COMMUNITY NIGHT WALKS

Join us in sevice one night.
Community Night Walks involve groups of volunteers accompanying our Night Ministers out on the streets in the evening hours, providing basic health needs and care to unhoused people in the Tenderloin and around the city. The program connects privileged and unhoused community members around our shared humanity. You are invited to walk!
OPEN TO ALL

We meet people wherever they are.
We do not save. We do not convert. We do not judge. We do not push an agenda of any kind. We offer presence, listening, referral services, and basic needs.
Hopelessness paralyzes the spirit, and despair is utterly draining. It can feel impossible, suffocating, overwhelming. Night Ministers rekindle hope with people – reminding everyone of their basic dignity and goodness – so that folks feel the heart to take the next positive step in their lives. Tending to spiritual needs is essential to human flourishing
Help us walk in more neighborhoods, every night. Your donations fund more nightly services.  ❤️ Donate Now
CARE LINE
Telephone Spiritual Care & Crisis Line
ANSWERING THE CALL
Trained phone counselors offer deep listening.
Our Care Line Counselors train in reflective listening, trauma informed care, interfaith spiritual support, suicide prevention, and crisis management.
Every night we offer compassionate listening, prayer and meditation, and affirmation of everyone's inherent sacredness and human dignity.
ANYONE, ANY TOPIC
We are unique among phone lines.
Most telephone lines are centered around a particular topic or have other restrictions. We are one of the very few counseling lines who will talk with anyone about anything.
Our Care Line is also open to caregivers. So often, our neighbors who are front line providers of care to others need someone with whom to talk, who is not their partner or their family. Call our nightly Care Line! We will listen deeply, and without judgment, and offer a word of encouragement where possible.
(844) HOPE-4-SF
Call us tonight or refer a friend.
Help us spread the word about this wonderful service. Our phone line is not only for people in active crisis. Many callers simply share stories from their day. The Care Line increases access to spiritual care by providing an opportunity for human connection and rest from a busy day.
Callers include young and elderly. College students feeling the pressures of social media, and senior citizens feeling lonely or isolated. Callers include folks grieving the loss of a parent, a loved one, or a pet companion. Many callers concerned about the state of the world, the pandemic, and our climate. Simply put, the Care Line is for everyone!
COMMUNITY
Spiritual Gatherings & Programs
Interfaith & Multifaith
We offer a variety of programs so people can find a community that most closely speaks to their understanding of reality and the Ultimate. Some programs are interfaith – widely inclusive of several religious traditions. Other programs are multifaith — deeply reflecting one particular tradition. We strive to be as inclusive as possible.

OPEN CATHEDRAL
Mission:  Thursdays  5:30 pm  @16th & Mission BART
Civic Center:  Sundays  2:00 pm  @UN Plaza, Leavenworth and McAllister
Open Cathedral is a non-denominational Christian outdoor worship service, held twice weekly in two different locations. Everyone is welcome. After worship, there is fellowship and a meal.
We invite people to participate at any level of comfort. People come as they are, in whatever state they find themselves.
Attendance at worship is not required to receive a meal or private conversation. Groups volunteer to host the meals.
Contact us if your group would like to host a meal.
About 50 people gather and 100 meals are offered each Thursday; and 75 people gather and 150 lunches are offered each Sunday.
Scroll through the photos to learn more.
MEDITATION GROUP
Meditation Group is a weekly Buddhist-inspired gathering. After check-ins and tea, we do a guided, trauma-informed meditation. We end with check-outs. Teachings center on the two wings of Dharma — wisdom and compassion.
All are welcome. No meditation experience is necessary. We are co-creating this program with the community. We may experiment with outdoor meditation periods and sitting in the zendo at Faithful Fools. Join us as we live into the Bodhisattva Vow to awaken for the benefit of all beings.
View Video about this pilot program.
TUESDAY GATHERING
Online Gathering, 6:00 – 8:00 PM PST in this Zoom meeting room
Tuesday Night Gathering is a time of connection and reflection. We begin with a period of check-ins, followed by a deeper dive into a spiritual reading or discussion. Topics range from traditional Bible study to general conversations about faith, hope, love, and life.
When we gathering in person (currently suspended due to the pandemic), we also offer meals. Groups volunteer to host the meals. Contact us if your group would like to host a meal.  About 12 – 22 people join us each week. Most participants are regular attendees of Open Cathedral. This program is building and sustaining strong relationships among people.
FAITHFUL & FABULOUS
First and third Saturdays – Sacred Cup

Our Faithful&Fabulous program is an important part of LGBTQ community life on the margins. We spiritually support this community, offering the unique array of community chaplaincy services that only SFNM provides.
Learn more about Faithful&Fabulous here

Quarterly outdoor spiritual events: Spring – Interfaith Street Queer Ash Wednesday (initial event of a season of sacred story reclamation activities); Summer -Drag Eucharist (outdoor Gay Pride Festival Service); Fall -Leather Mass (pre-Folsom Street Fair leather and kink-centered worship service); Winter -Interfaith Xmas Eve Street Outreach Care Package Distribution and Fellowship (homeless-focused).
Regular Community Programs: Sacred Cup (bimonthly LGBTQ spiritual discussion); Sacred Cocktails (speakers and presenters on faith and spiritual practice at LGBTQ nightspots); partnered events (e.g., Manny's, the Tenderloin Museum, Center for LGBTQ and Gender Studies in Religion at Pacific School of Religion).
OPEN SHABBAT
Periodically throughout the year

Open Shabbat is an outdoor service inviting folks into moments of sacred rest. Rabbi Jeremy Sher leads gatherers in both English and Hebrew, with melodies old and new, and hearty meals for the community. This outdoor Jewish service in a similar form and feel to our successful Open Cathedrals. Everyone is invited, welcomed, and included.
Click here to contribute funds or offer your support for Open Shabbat. You can also text "SHABBAT" to number 44-321. We are also seeking partner congregations to conduct services and provide meals.
OPEN HANUKKAH
Emerging annual event

In December 2021, we held our first Open Hanukkah. Three Jewish congregations partnered with us. Congregation Ner Tamid and Or Shalom Community co-led the service. Congregation Beth Israel Judea & B'nai Emunah provided support and the meals.
ANNUAL VIGIL
Outdoor Memorial Service – Civic Center UN Plaza
Around the winter solstice every year, people all across the country remember unhoused people who have died that year. We partner with the Coalition on Homelessness, SF Interfaith Council, Faithful Fools, Skywatchers, and Sojourn Chaplaincy to offer an annual Procession and Vigil in San Francisco.
In 2021, we estimate that over 300 people died on the streets and in single room occupancy hotels. The actual number was likely much higher. We honor the anonymous along with the named. Learn more about the 2019 memorial. Read more about the 2018 service.
OTHER PROGRAMS

We collaborate with a number of other organizations on common goals.

SF CARES – We sit on the board of SF CARES (San Francisco Compassion, Advocacy, Resilience, and Education Services) along with these other non-profits: St. Paulus Lutheran Church, St. Francis Lutheran Church, and Iglesia Luterana Santa Maria y Santa Marta. SF CARES provides feeding programs, educational programs, and other outreach efforts such as free vision screenings.

San Francisco Suicide Prevention – We have an agreement to provide a framework to refer callers between our crisis lines, to cooperatively train volunteers, and to mutually support confidentiality and safety policies.
Domestic Violence Prevention – We have an understanding with both WOMAN Inc. and La Casa de las Madres to provide safe transportation to a safe house for victims of domestic violence.
Faithful Fools Street Ministry and Institute for Street Level Learning
HELP SUSTAIN OUR SPIRITUAL COMMUNITIES
CPE EDUCATION
Training Emerging Leaders
CLINICAL PASTORAL EDUCATION (CPE)
CPE is clinical training for spiritual leaders. Most CPE programs occur in a hospital or health care clinical context. Our clinical context is the streets of San Francisco. We are unique among community-based CPE programs. Our center and site is a nonprofit organization. Click here for more informatio about our CPE programs.
Cultivating new leaders is a critical part of our ministry.

We are fully accredited by the Association for Clinical Pastoral Education (ACPE) to offer all levels of CPE training. Learn more about ACPE CPE.
Our programs emphasize cultivating a ministry of presence and deep listening. We focus on how to be present with suffering in ourselves, with others, and in groups for the purpose of transformative healing.
Our CPE center is open to all people who are rooted in a spiritual tradition or practice. Spiritually-driven helping professionals – such as social workers, therapists, and nurses – are welcome to apply.
Our CPE programs are funded by generous donors who have a heart for education.  💜 Help Emerging Leaders.

CPE PROGRAMS
Please read the FAQs on the CPE webpage carefully. This page also contains information on how to apply.

Throughout the year, we offer part-time (extended) and summer full-time intensive programs. The extended unit often have an online-only option, with the inclusion of 100 clinical hours at a local site of the student's choosing.
Also, we contract with other CPE Centers to allow their students to use our telephone Care Line as a clinical context. Click here for a sample placement agreement. Contact us at [email protected] with questions.