We provide spiritual care and multi-faith community at night, on the phones, and in the streets of San Francisco. We do not judge. We do not convert. We meet people where they are and offer the  gift of undivided attention and loving presence.
It's been nine years since I began to visit the Castro on Christmas Eve. Sometimes I have joined together with ministers and the Sisters of Perpetual Indulgence for midnight or 1 AM caroling after candlelight services. Sometimes the Night Ministry has held an early evening Christmas Eve Interfaith Service in the street, often with a meal and hot cocoa with a special welcome to our unhoused neighbors.
For the last three years I've had the pleasure of carrying the leftover cookies from our street service (generously donated by Hot Cookie) into the bars to engage the merry bands of Christmas revelers in Castro's gay bars, many of whom have been rejected by their families.
In 2020, as Covid continued to threaten, we wondered what we might still do. We decided to continue to offer presence in the streets and to hand-out care packages with socks, warm cookies, and festive & practical sundries to our unhoused neighbors.
Members of the Episcopal Church of Saint John the Evangelist, The Gubbio Project, and others donated to and prepared the care packages in the days leading up to the event. On Christmas Eve we added the cookies from Hot Cookie—a delight! We had so many donations that a second delegation of Sisters distributed packages along Polk Street, another historic queer corridor of San Francisco.
We were blessed to share such abundance, connect with folks in the streets, and keep the Christmas Eve tradition of the San Francisco Night Ministry's presence in the Castro alive—even in these times. Like many of those who participated, may that tradition shine, glittering, like the Christmas star for years to come.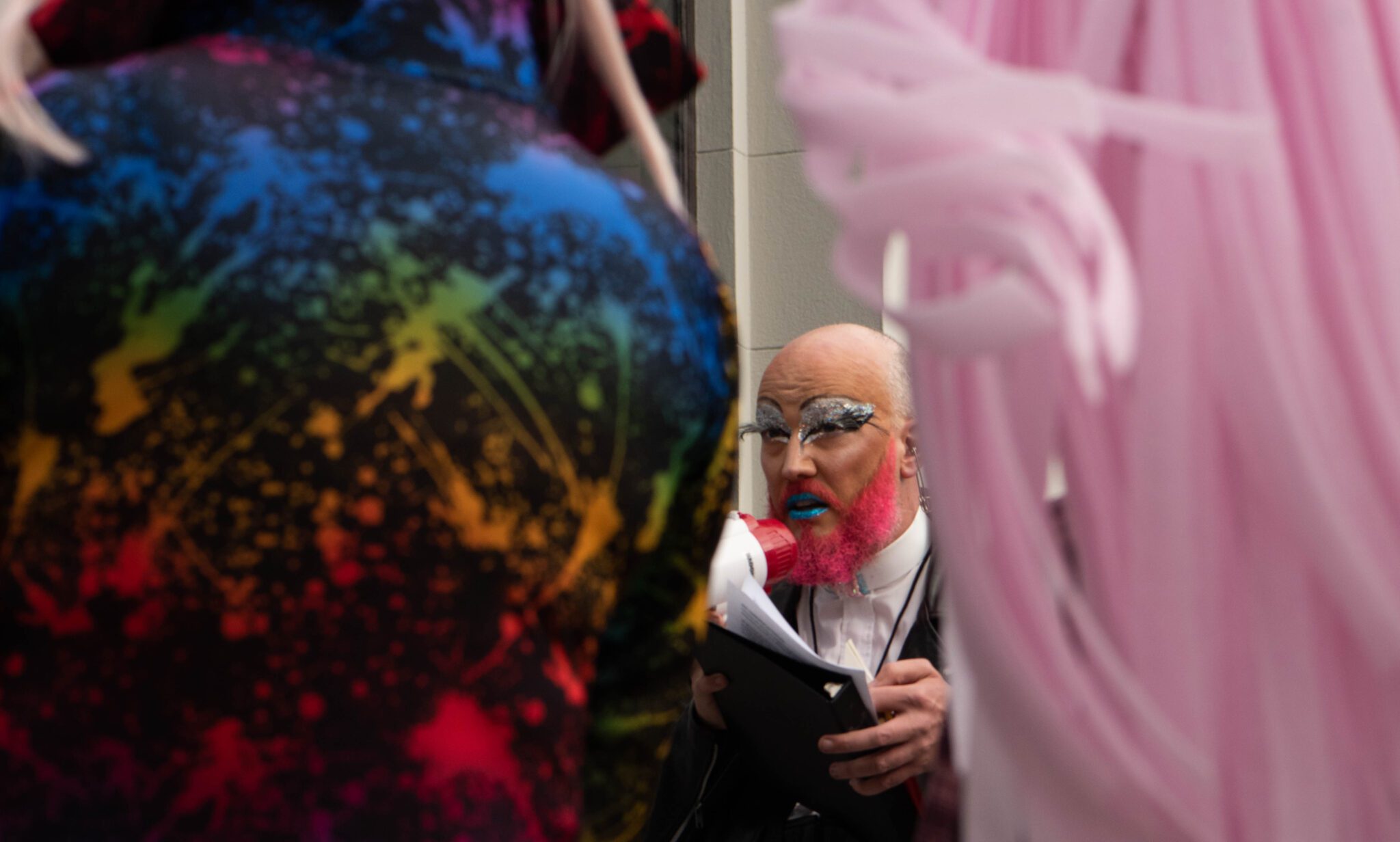 LGBTQA+ HISTORY
Since 1964, San Francisco Night Ministry has been a friend and ally to the LGBTQA+ community. Many of our own ministers and volunteers are part of the community. Here is a brief timeline of some key events, starting with present day:
TODAY – BUILDING HOPE
The Night Ministry, through LGBTQ+ Outreach Director, John Brettt, recommits to service in the LGBTQ+ community, focusing on the most vulnerable amongst us. Emerging programs accompany EL/LA for Trans Latinas in the Mission and isolated LGBTQ+ seniors across the city.
2010S – SECURING THE LEGACY
Night Minister Lyle Beckman, with the help of Don Fox, arranges for Jose Sarria's funeral service to be held at Grace Cathedral, assuring that the Empress Norton, one SF's most notable queer leaders receives the honor she's due.
2000S – CASTRO PRESENCE
Assistant Night Minister Diana Wheeler begins a dedicated LGBTQ+ ministry with a focus on the street of the Castro and accompaniment of the drag and Imperial Court communities. Later the ministry becomes Sacred Space.
1990S – CONTINUING WITNESS
The Night Minister Don Fox SF continues to officiate hundreds of memorials for those who have died of AIDS and whose families or communities will not claim their bodies. He also deepens the SF Night Ministry's connection to the Imperial Court, giving the blessing at the annual Colma Pilgrimage to the Emperor Norton's grave.
1980S – AIDS MINISTRY
Night Minister Chuck Lewis visits Bay Area churches to preach inclusion of their gay & lesbian members. He reminds churches that they have gay members, many of whom are dying of AIDS. He confronts the church's version of "Don't Ask, Don't Tell," & leads churches to engage in hospice care. Rev. Lewis appears photographed in Bay Area newspapers taking an HIV test to destigmatize and normalize HIV testing.
1970S – LESBIAN HISTORY
Phyllis Lyon & Del Martin, SF & national leaders for lesbian rights, continue their friendship & support of the SF Night Ministry.
JANUARY 1, 1965 – HISTORIC DRAG BALL
Assistant Night Minister Chuck Lewis & Founding Care Line Coordinator Jo Chadwick support organizing for and attend the New Year's Ball at California Hall through their work with the Council on Religion & the Homosexual. The first public drag ball in SF, the event is raided by police and leads to police reforms to protect San Francisco's queer community. Illegal at the time to appear in drag, when the dance was raided, Jo Chadwick smuggles photographic evidence out the door under police eye by hiding film rolls in her bra!
1964 – BAR MINISTRY
Night Minister Don Stuart quickly befriends the LGBTQ Tavern Guild. Across the city in the safety of bars' backrooms, queer bartenders refer queer underage youth & runaways to him for care & counseling, where he reassures them that they are loved & worthy.
we provide spiritual care and multi-faith community at night, on the phones, and in the streets of San Francisco. We do not judge. We do not convert. We meet people where they are and offer the gift of undivided attention and loving presence.
Relationship Issues •  Emotional Support •  Grief Counseling •  Loss Counseling •  Trauma Processing • Spiritual Questions
NIGHTLY WALKS
We walk the streets of San Francisco every night, attending to physical and mental needs, providing harm reduction as well as companionship to the people who fall between the cracks of San Francisco's social services. The people we serve are marginalized and often go unacknowledged despite being members of our community.
CARE LINE
Every night, 8 pm – 4 am PT, the San Francisco Night Ministry Care Line is open. This is a multi-faith organization that is  spends time with absolutely anyone on any topic. We will talk and listen deeply without judgment. And, we are overseen by trained professionals in clinical therapy and suicide prevention.
COMMUNITY BUILDING
We build programs that welcome anyone who is honestly seeking community. We're here to engage in mutual care, respect, and support regardless of your faith background or preference. Whether it's a Tuesday Gathering, Guided Meditation, or Open Cathedral– whether it's an area of interest for you or just something you are curious about and want to try, we want you to be here.
CLINICAL PASTORAL ED. (CPE)
We believe in the power of counter-cultural deeply compassionate and undivided presence. We've seen it support people for over 50 years, and we want to see this work continue well into the future. Clinical Pastoral Education is training in compassionate presence. Helping professionals from any walk of life can apply to our fully accredited ACPE program.
We work when most people are asleep, providing the gift of undivided attention because we recognize that lasting change must include tending to the human spirit.