SF NIGHT MINISTRY
WINTER REFLECTIONS
Uncommon offerings in the 2020 Holy Season.
Vigil: Annual Homeless Persons' Memorial, Advent Reflections, Hanukkah BLESSINGS
Vigil Video
San Francisco Night Ministry partnered with the San Francisco Interfaith Council, the Faithful Fools, ABD Productions/Skywatchers, Sojourn Chaplaincy at SF General Hospital, and the Coalition on Homeless to host this year's Vigil: Annual Homeless Persons' Memorial.
For over 25 years, this interfaith Vigil around the Winter's Solstice remembers the people who died on the streets or in housing insecurity in San Francisco that year. Sadly, we read the names of over 360 people this year, far more than in years past.

ADVENT REFLECTIONS
This Advent season, Night Ministry reflected on four aspects of HOPE through the stories of people serving in each of our four areas: Night Ministry nightly walk, weekly Community Programs, nightly telephone Care Line, and Clinical Pastoral Education training.
CLICK THROUGH THE IMAGES
TO JOURNEY INTO EACH STORY
We wish all of our Jewish brothers, sisters, and siblings a very #HappyHanukkah! Thank you to Chaplain Adam Briones, our Open Shabbat program manager, for this blessing.
Tonight, the Hanukkah celebration begins with these three blessings:
בָּרוּךְ אַתָּה יְיָ אֱלֹהֵינוּ מֶלֶךְ הָעוֹלָם, אֲשֶׁר קִדְּשָׁנוּ בְּמִצְוֹתָיו וְצִוָּנוּ לְהַדְלִיק נֵר שֶׁל חֲנֻכָּה
Blessed are You, Adonai our God, Ruler of the Universe, who makes us holy with your commandments, commanding us to kindle the Hanukkah lights.
בָּרוּךְ אַתָּה יְיָ אֱלֹהֵינוּ מֶלֶךְ הָעוֹלָם, שֶׁעָשָׂה נִסִּים לַאֲבוֹתֵינוּ וְאִמוֹתֵינ בַּיָּמִים הָהֵם בַּזְּמַן הַזֶּה
Blessed are You, Adonai our God, Ruler of the Universe, who performed wondrous deeds for our ancestors in those ancient days at this season.
בָּרוּךְ אַתָּה יְיָ אֱלֹהֵינוּ מֶלֶךְ הָעוֹלָם, שֶׁהֶחֱיָנוּ וְקִיְּמָנוּ וְהִגִּיעָנוּ לַזְּמַן הַזֶּה
Blessed are You, Adonai our God, ruler of the Universe, who's kept us alive, sustained us, and brought us to this season.
Often called the Festival of Lights, Hanukkah is celebrated with the lighting of the menorah—a candelabrum whose seven branches represent knowledge and creation—that burns every night. The Hanukkah miracle is that though there was just enough olive oil to keep the candles burning for a day, the light kept flickering for eight nights.
On the first day of creation, God created light and darkness and said that it was good. However, sometimes the darkness can paralyze us, scare us, and have us retreat from life. On the other hand, light can warm, guide, and lift our spirit. But too much light, too much fire, can destroy as well.
We pray for a balance so we can feel the equilibrium of our soul.
2020 has given us our share of light and darkness. The shelter-in-place, isolation, and Zoom meetings have given all of us a sense of disconnection, but by the same token a sense of spiritual connection. Even if we are not able to hold our friends and loved ones, our soul connects to the spirit of another. That is the miracle.
Light brightens up darkness, and darkness gives us an opportunity to think creatively on how to connect with others, vis-a-vis the Care Line or our Night Ministers walking on the streets as a ministry of presence.
Light guides, nourishes and heals. Here at the San Francisco Night Ministry, we pray to be a beacon for those who see and feel the darkness.
Great Conjuctions
          Rev. Trent reflects on the year.
A 400 year event known as the Great Conjunction happened on December 21, 2020. The two slowest moving planets in our solar system — Jupiter and Saturn — came into alignment to create a single bright star in the sky. Some called it a "Christmas Star," heralding rekindled hope for the world in 2021. May it be so!
Yet hope need not always come as an exquisitely rare celestial event. For over 55 years, Night Ministry has been rekindling hope, in even the darkest of nights, through simple acts of kindness and loving attention. In that respect, this past year was no different.
What was different in 2020 was the conjunction of pandemics we experienced together: a pandemic of disease, a pandemic of racism, and a pandemic of lonely hearts. Night Ministry responded by pivoting our programs to meet these deeply surfaced needs.
Foremost, we re-imagined our nightly telephone Care Line. We set up a new technology allowing volunteer counselors to work from home. This allowed folks from as far away as Hawaii and Ireland to join our community of listening ears. And we expanded our hours, now from 8PM – 4AM every night. No one needs to go even one evening without hearing a human voice say, "good night." 
Meanwhile, our other programs also adjusted. Our night ministers followed all City safety protocols while continuing to offer a ministry of presence on our streets every night. We also distributed hand sanitizer, hand-washing station maps, tents to those without shelter, and other vital referral services. While our Open Cathedrals were suspended, then reopened, then re-suspended, we managed to stay connected to our congregation on social media with our new Media Minister's help. And we trained seven bright seminarians in our accredited Clinical Pastoral Education (CPE ) program.
Honestly, I am amazed at how much we accomplished with modest resources! Even as we sought new donations to fund our growing ministry, we also recognized our first Legacy Partner — St. John's Lutheran Church of Sunnyvale — for gifting Night Ministry with a sizable portion of proceeds from the sale of their church building.
May each of us remember that the brightest morning star is dawning, right now, in this very moment, in the innermost chamber of our heart. And when our shining hearts align, they create a Great Conjunction the likes of which has never been seen in any starry sky.
Rev. Trent Thornley, Executive Director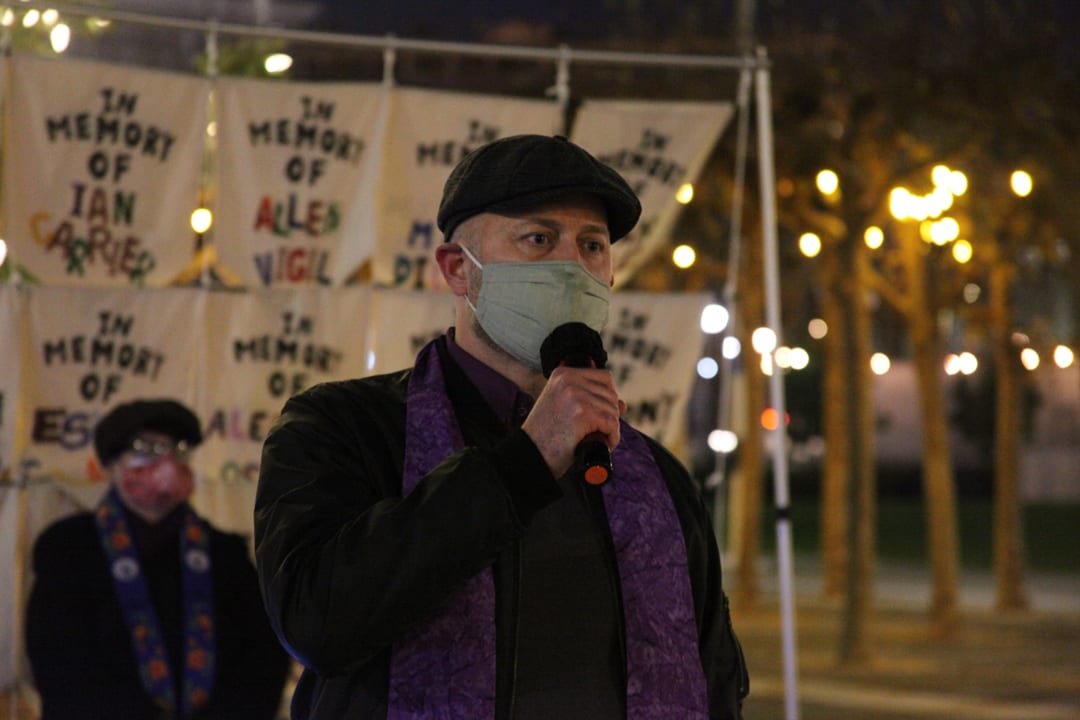 Castro Christmas
LGBTQ+ Program Manager John Brett shares a recap of Christmas Eve: 
It's been nine years since I began to visit the Castro on Christmas Eve. Sometimes I have joined together with ministers and the Sisters of Perpetual Indulgence for midnight or 1 AM caroling after candlelight services. Sometimes the Night Ministry has held an early evening Christmas Eve Interfaith Service in the street, often with a meal and hot cocoa with a special welcome to our unhoused neighbors.
For the last three years I've had the pleasure of carrying the leftover cookies from our street service (generously donated by Hot Cookie) into the bars to engage the merry bands of Christmas revelers in Castro's gay bars, many of whom have been rejected by their families.
This year, as Covid continues to threaten, we wondered what we might still do. We decided to continue to offer presence in the streets and to hand-out care packages with socks, warm cookies, and festive & practical sundries to our unhoused neighbors.
Members of the Episcopal Church of Saint John the Evangelist, The Gubbio Project, and others donated to and prepared the care packages in the days leading up to the event. On Christmas Eve we added the cookies from Hot Cookie—a delight! We had so many donations that a second delegation of Sisters distributed packages along Polk Street, another historic queer corridor of San Francisco.
We were blessed to share such abundance, connect with folks in the streets, and keep the Christmas Eve tradition of the San Francisco Night Ministry's presence in the Castro alive—even in these times. Like many of those who participated, may that tradition shine, glittering, like the Christmas star for years to come.